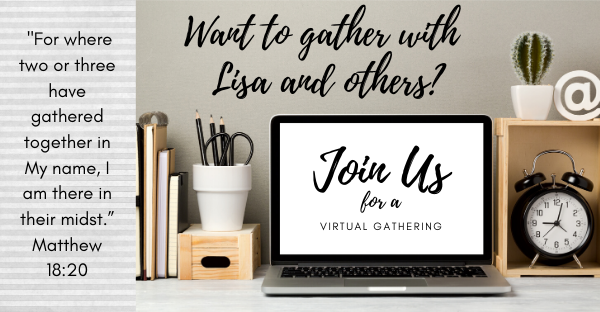 Below, you will find information on how to be a part of the virtual gathering with Lisa and ladies from around the U.S. If you can't make the Thursday 10:00 a.m. (CST) live discussion group, you are encouraged to begin a virtual or in-home group of your own. All the material is provided free of charge. Nothing to fear. You will even have the questions provided to ask for discussion time.
If you would like to be included in the Zoom link for the virtual sessions, contact us here: Lisa@LisaHeatonBooks.com.
If you are leading a group of your own, no matter its size, let us know. We want to be able to pray for you and your group.
Session One:
The group began July 9th, 2020.
Click here to go to the 7.9.20 video and session material link. Session one included the devotion material the day of the online group. (You can access that video at the above link.)
The assigned reading, Live in Safety, a chapter located in the You. Are. Loved. book can be read online or downloaded by clicking below:
Sessions Two and Beyond:
Participants will watch the prerecorded videos on Lisa's YouTube Channel.
Thursday's live sessions will be discussion groups on the previous weeks' topics.
The beauty of the online group is that you move into breakout sessions where you will meet new people and discuss your previous week's reading and Takeaway questions.
When we all return to the main session, a representative from each group will be asked to share some of your thoughts and questions. This will be Q&A time with Lisa.
We hope you will join us or at least join us as a video participant.