One thing I have wondered is how so many of today's world leaders were instantly on board when it came to things like Covid lockdowns, shot mandates, and vaccine passports. Similar in their adherence to excessive and unwarranted climate policies and global financial goals, today's most influential leaders are all walking in tandem in thought, speech, and action toward a global system of control. The same can be said of many of the world's giants in big tech, social media, banking, healthcare, and the retail industry. The answer to my question was answered by the video below. In Daybreak, I compared this too-big-to-absorb picture as being made up of thousands of puzzle pieces. I saw this one piece fall into place, and it's like many other pieces then fell into place alongside it.
Since 1992, many of today's world leaders, politicians, and captains of private industry have attended the "same school of thought", the Young Global Leaders program, sponsored by the World Economic Forum's Klaus Schwab. These are some of the most well-known names in the news today and the same people pushing for the same agendas including strict Covid mandates and climate policies. Just a few of the names on the list are: Angela Merkel, Nicolas Sarkozy, Emmanuel Macron, Tony Blair, Jacinda Ardern, Bill Gates, Jeff Bezos, Gavin Newsom, and Peter Buttigieg. These are some of the most notable people who are shaping our world today, each chosen for this special school, then strategically placed into positions of great reach and authority.
Below the video link is the article link James Kaddis is referencing on the video. The article is a long but worthwhile read. Take your time and let its implications settle in.
Before you watch or read either, my takeaway is this:
The Antichrist is already on the scene pulling the strings, though he is just not yet revealed. We are told in 2 Thessalonians chapter two that this man of lawlessness will not be revealed until "he who now restrains" is taken out of the way. My belief is that the "restrainer" is the Holy Spirit who indwells the church of Jesus. After the rapture, this man will have nothing left in place to restrain his evil activities. Yes, the Spirit will remain here to convict and draw those who are left behind to faith in Jesus, but we, the church, as a restraining force who fights for truth and exposes darkness will be out of his way. It'll be game on.
Holy Smokes! The New World Order!! Tom and James Prophecy Podcast
– I do recommend the entire video for the hosts' other points of discussion, but for our purposes here, the portion I'm referring to begins at the 23:07 mark.
Exposed: Klaus Schwab's School For Covid Dictators, Plan for 'Great Reset'
– The videos included within this article are in German with subtitles. I didn't watch them. And let me say, this site is a new source to me, one I plan to investigate further. Today is my first time to visit, so I caution you: if you choose to read other articles by this source, view them with discernment.
"Build Back Better" Great compilation of the world's leaders all saying "We need to build back better". Interesting how they are all part of the World Economic Forum and are all saying the same exact phrase. The Great Reset isn't just coming; it's here. Our leaders already have us in the midst it, and we as unsuspecting people have no clue.
Markell: The Crisis That Didn't Go to Waste by Jan Markell – This is a good general overview of how we got to where we are.
---
The United Nations
This stunning image was placed at the United Nations headquarters in New York City and has since been removed after the Christian community backlash comparing the image to that of the beast in Revelation 13. See article link below the image.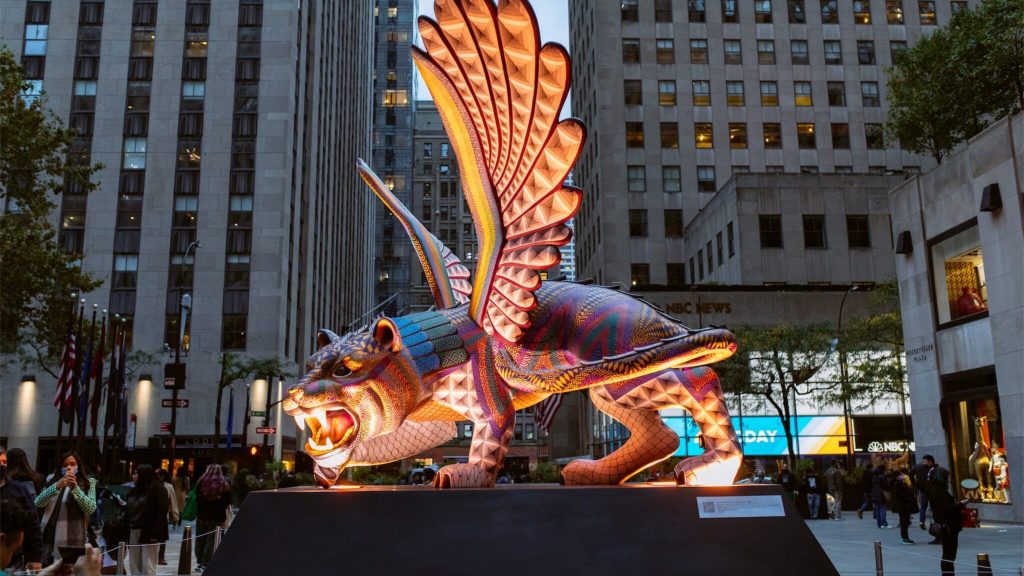 REMOVED: UN Revelation-esque 'Peace & Security' Statue No Longer Displayed Following Backlash
Copied from article – mistakes and all
"The controversial UN statue "guardian of peace and security," has now been removed from the United Nations headquarters in New York. The statue garner widespread backlash from Christians who noticed the striking similarity in its characteristics to a beast described in the Book of Revelation representing the antichrist."
United Nations' Agenda 2030
This is the Universal Agenda | Pastor Tom Hughes
– An enlightening video that details the already-underway UN plan that openly furthers the one-world government agenda.
This is a link to the article quoted in the video above:
A New Era and a New Universal Agenda RaptureReady.com by Daymond Duck