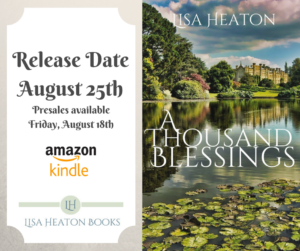 This release has been a long time in coming since the book was written in the spring of 2016. With the current revisions complete, the stage is set for a short series.
Keep an eye out for A Deslan Tale and Promise Keeper. A Deslan Tale will be available in 2018 – Lord willing. 🙂
We will provide the link for presales later in the week.
"Jacket Cover":
Travel with Isabel as she journeys to an unknown land to marry Colin, a widowed king. Elias, the king's trusted commander, accompanies Isabel to her new home. While faced with peril along the way, the greater danger is the fondness that develops between the two. Isabel must choose between her heart and duty, while Elias decides if he will fight for the woman he loves or honor his king and kingdom.
This fantasy kingdom setting differs from Lisa's usual contemporary novels. No matter the time period, Lisa explores the complexities of relationships when we try to live with Jesus on the outskirts of our lives.
Other books by Lisa: Unmending the Veil, On 4/19, Beyond 4/20, and Deceiver – all available on Amazon.
Please note: If you purchased the PDF and would like the .mobi file to read on your Kindle for no additional charge, please let us know at lisa@lisaheatonbooks.com.