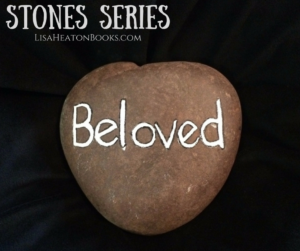 I want to begin this post by saying this is my favorite stone, but then I tend to think they are all my favorite in one way or another. This one is set apart as special because it was the beginning of what is now my love relationship with Jesus. He calls me Beloved.
It started with the novel, Redeeming Love. The book had been recommended to me by several friends, but at the time, I wasn't reading fiction. I had a trip scheduled to Dallas and needed something for the flight, so this book came to mind and that so many people had highly recommended it.
Note: I'm sitting here shaking my head, still marveling
over its impact on my life.
Funny thing, I can hardly remember the story. That wasn't what had such great impact. I do remember the beginning was a tough read, so I skimmed some early parts. Anything bad that happens to a kid – that's a no for me. It wasn't the Western days version of the Book of Hosea that got to me either, even though that's one of my favorite books of the Bible.
It was one simple word: Beloved. That is what the guy called the girl in the novel. I'm not sure if it was often that he did, I just know he did at least once.
After my return from Dallas, I finished the book at home. It was nighttime, and I was sitting with my guys while they watched TV. I finished the book and closed it, and all I could hear echoing in my heart was the word, Beloved. Over and over it rang. I looked around the room almost expecting to find some external source for what I was hearing.
That was only the beginning. Over the next days, weeks, and even months, the word Beloved followed me everywhere. For one I was still hearing it echo in my heart almost nonstop. Sermons, devotions, and my Bible reading were all filled with the topic and word.
I can't remember this many years later when I had my moment of clarity, when I actually understood that Jesus was calling me His loved one. When it did register with me, it rocked my world. That's not a pun for the Stories Series. My world was literally rocked and transformed by Love.
Transparency alert: Like most women, I had lived my entire life in pursuit of love. Most often, I was looking for love in all the wrong places. (Hey, I should write a song…) Women are notoriously hungry for love. Nice girls get their love cup semi-filled with parents, husbands, their kids, and friendship. But broken girls like me chase after love in massively self-destructive ways and live lives they look back on with deep regret. I have much to regret.
Anyhoo, enough of that.
Let's go back to a compound word I used above: semi-filled. No matter where you're trying to get your love cup filled, if it's not Jesus you're in pursuit of, then your cup is never full – never – ever. I've looked under every rock, from sources like my husband, kids, etc. No one or thing can fill me. As a matter of fact, the more I pursue anything or anyone but Jesus, the more empty I become.
Conversely, the more I pursue the love Jesus offers, the more I am filled to overflowing. That love becomes something I can pour out in a healthy way to fill others rather than hoping they can fill me.
Here's the point: I needed love. Every second of every day of my tumultuous life, I had needed love. All of the sudden, Jesus was calling me Beloved. He didn't just tell me once that I was loved. He kept telling me. Not only did He tell me, He kept showing me in the craziest ways. Those are some of the Stones I will be sharing in the upcoming series.
I look back now on the Christian I was trying to be pre-Beloved. I looked pretty pulled together on the outside, but I was more of a faker than anything. The love of Jesus transformed me and the way I saw myself. It began to allow me to trust Him. How can you not trust Someone who loves you even when you're at your most unloveable?
I could make this a novel, this topic of love. I can't in this setting. But I will challenge you, if you don't feel saturated and steeped in His love, then you're missing the main thing. You have a relationship to work on. Work and serve at your church all you want, but until you get the love thing right, you will only spin your wheels and pursue love in unhealthy ways. You need to know and feel and believe You. Are. Loved!
If you come to visit, what will you see all over my house?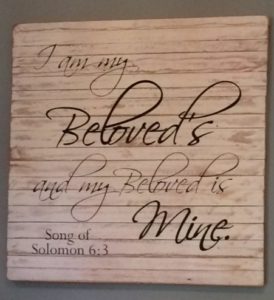 I have it on pillows, over my bed, in my office as you see above. This is my jam, this love thing. Because the enemy constantly tries to undermine my belief in that love, I protect myself with a barrage of reminders.
So, there you have it, my favorite stone – Beloved.
I love you in the Lord,
Lisa