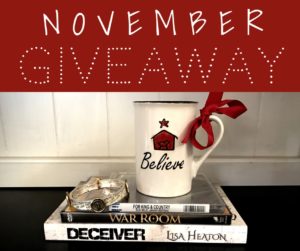 Have you read Deceiver? If so, and you want to enter to win this fabulous prize package, you can do so by leaving a review on Amazon. Once your review is posted, simply copy and send the review to lisa@lisaheatonbooks.com. That's it – easy peasy.
Even if you didn't purchase your copy on Amazon, with an account you can still leave a review for the book. You don't have to say much, just if you liked the story.
Winner to be announced on Monday, November 21st at LisaHeatonBooks.com and on Lisa Heaton Books social media sites.
If you already have left a review, follow the same procedure. Go find your review, copy, and email.
Note: This prize package is only for a review on Deceiver.
________________________________________________________________
A word about Deceiver
Blog – Deceiver to Discipler
That's me. I can think of no better way to describe my transformation over the past decade. If you've read Deceiver, then you've stepped inside elements of my personal story. Where Unmending the Veil depicts my spiritual journey, Deceiver tells some of the most intimate and tender details of my personal healing.
The term deceiver described me well for the majority of my life. Most saw me as independent, bold, and confident, when in truth I was tremendously wounded beneath the surface, vulnerable in a way I allowed few to see. It was never intentional deception on my part, as if I wanted to mislead people. Instead, I was simply trying to hide the worst of me: my shame, warped memories, and a skewed perception of sex and love. I spent my entire life hiding who I was deep down and the wounds that shaped how I saw myself and who I believed myself to be.
As I was finishing up with Deceiver, Jesus was working through some of my deepest healing, removing blame that I had allowed to follow me for more than four decades. We came to this topic of scars and how mine and my story would benefit others who need healing. I ran across this:
"But the poppy is also hopeful: of life following death, of the triumph of beautiful nature over the ugliest of man-made scars." (from the site: Gardens: why the poppy is more than a symbol of remembrance)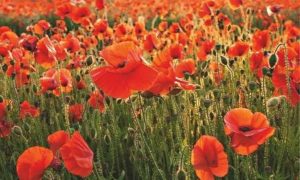 My scars were man-made, but Jesus triumphed over them. I'm no longer bound by the shame of what happened. I no longer need to deceive. As a matter of fact, my openness in ministry in this area has led to even greater freedom for me, not to mention the countless women who have contacted me with similar childhood histories and how they are now pursuing the same healing.
That summer I finished the book and found that quote, I found myself feeling a sense of triumph of my own as I understood that God had taken what was intended for evil and was intending to use it for good. Jesus won!
As I wrote the epilogue of the book, Casey's story after her story, I was well aware that I am currently living out my own epilogue. This is my offering back to the God who heals. Nothing about sharing my story is easy, but what makes the greatest impact for the Kingdom's sake rarely is. Truly, it was an excruciating season of my life as I poured myself out onto the pages of the novel. But now I can say this, it was worth the tears and worth the pain.
I would love to hear your thoughts on the book. What did you think of Casey and Nikolai's story? I have to remind myself, though one  darker theme of the book hits me more personally, there are other issues explored that touch millions of women's lives: learning to live out new found faith, being married to an unbeliever, dealing with the aftermath of an affair, working through forgiveness toward someone who has lied to you, living estranged from family. We have many conversation starters here.
As always, thanks for your encouragement and support. Without it, I may have thrown in the towel on many occasions.
Grace and peace,
Lisa