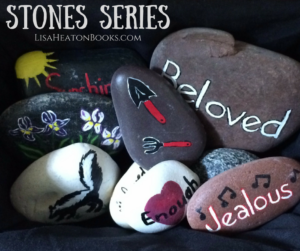 I have a basket of stones that I keep around to remember. Some of the most remarkable encounters I have had with God over the past years are represented by a stone with something painted on it. I got this idea from the Book of Joshua where, after the Israelites crossed over the Jordan River on dry ground, the LORD told Joshua to have the 12 Tribes set up stones as a memorial.
Chapter 4:4-7
4"So Joshua called together the twelve men he had appointed from the Israelites, one from each tribe, 5 and said to them, "Go over before the ark of the Lord your God into the middle of the Jordan. Each of you is to take up a stone on his shoulder, according to the number of the tribes of the Israelites, 6 to serve as a sign among you. In the future, when your children ask you, 'What do these stones mean?' 7 tell them that the flow of the Jordan was cut off before the ark of the covenant of the Lord. When it crossed the Jordan, the waters of the Jordan were cut off. These stones are to be a memorial to the people of Israel forever."
Why do I need a memorial? Because I'm just as forgetful as the Israelites. Don't we often wonder how they could forget from one minute to the next all that God had done for them? Seriously, the plagues, the exodus, crossing the Red Sea, manna from heaven? It's easy for us to read the account and wonder how they could forget such big events or the fact that God had promised to take care of them and proved it over and over.
I have seen God work on my behalf in small and huge ways. I have witnessed His hand in my life in ways that I absolutely know it's Him. But still, when the going gets tough, the forgetful forget. Then I find myself wondering if He will come through on the next thing. I like to take time out on occasion and view my own Stones of Remembrance. Maybe this is an idea you can adopt in your own creative way by making a collage of photos or painting stones or scrap booking your memories. No matter how you set out to remember, just make sure you remember.
I'm in a yucky season right now, wondering if God will come through in some ways. Of course He will come through. It just may not look the way I want it. When my mind (and shaky faith) are in this forgetful place, I pull out my stones. I figured I would share them with you in the upcoming weeks. If I blog about them, that will keep them fresh on my mind and make sturdy my faith for this current season.
Many of you have heard my Stone stories at conferences, so I will begin next time with a new one. After that, you may get bored with a repeat, or maybe a fresh view of it will spark something you notice in your own life. To me, the little things can make just as big of an impact as the larger, jaw dropping miracles. Aren't those the ones we often miss, however, the little things He does for us day in and day out. You have to keep an eye out.
Hope you enjoy the upcoming series.
Blessings to you,
Lisa